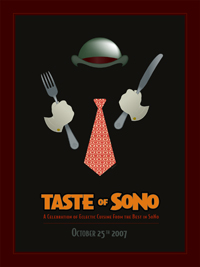 Taste of SoNo originated from my idea of bringing the creative community together, integrating a networking event with a tasting of the finest cuisine South Norwalk has to offer.
I wanted to share my love of this neighborhood and its restaurants with my clients by creating a memorable themed event appealing to the creative community and sharing the tastes of the top-notch SoNo restaurants that enrich the downtown scene.
The theme was created from my passion for vintage advertising poster design. I built the Taste of SoNo look and feel on a premise of old world style meeting new world downtown taste. In a brainstorming session, creativeplacement designer, Dan Camera, shared other vintage poster motifs and ideas, one depicting a fanciful performer twirling spaghetti for a Pates Baroni ad, and the other with an elegant woman in white holding a glass representing Martini & Rossi. I added these images to the repertoire of an influential era mixed in my mind. I was also impressed and moved by the poster designs of Tom Fowler and my love of Rene Magritte's paintings during the 20's and 30's. Working closely with Camera, the "Hatman" poster was born. Soon after the "Olive" poster emerged, adding another layer to the flavor of the ultimate event.
During our premier Taste of SoNo event in March of 2007, many guests inquired if the posters were for sale. Not long after, the posters won 13 awards from three prominent design organizations, the CADC, AdClub of CT and Westchester AdClub. By popular demand, we now offer the posters for sale.
Karl Heine
creativeplacement has flourished in SoNo for close to 2 decades. Currently located in the historic district at 13 North Main Street in the Edlin Building, the office resides in the hub of the entertainment and dining center of the city.
creativeplacment recruits high-end creative professionals connected to the advertising and design community, a crowd with discerning palettes and palates.